We Focus on Japanese Quality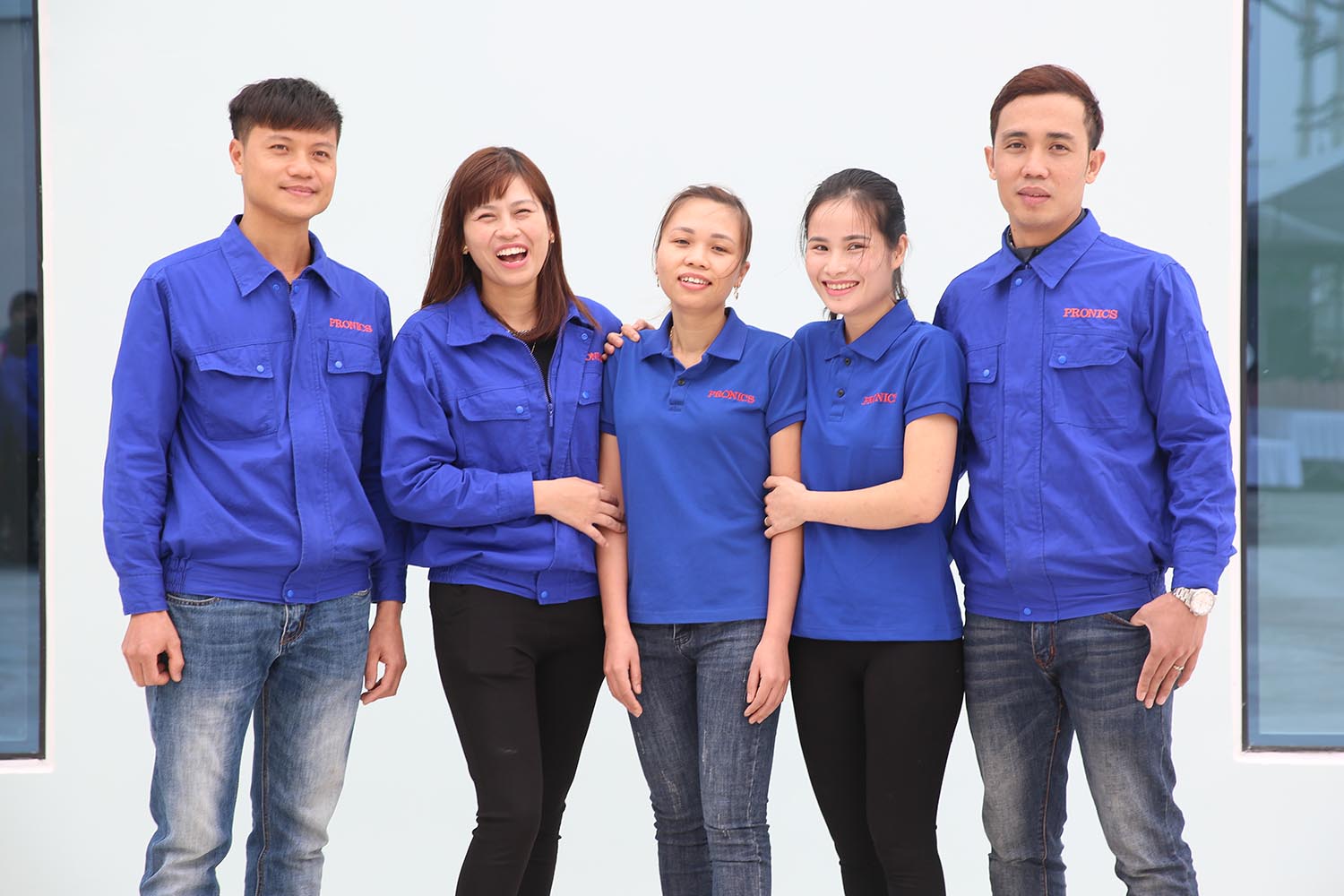 Hello. We are Thu, Quang, Ly, Cuong and Son of PRONICS HANOI. We're working on plastics injection molding, mold, measurement, quality control. Each day working at a Japanese company is a day for us to learn about quality improvement and make effort on process improvement. PRONICS HANOI started in 2017, so our career is almost 3 years. At first, the process was going around, and although the product was completed properly, I could not find a purpose in the daily efforts to shorten or improve the process. However, I have come to realize the fun of manufacturing as the skills of each staff member become more proficient and improve process progresses in a visible manner. We have young staff and a young company, and we will continue to grow.
We look forward to have opportunity to help you with your work.
We Support in Vietnamese, As Well As in Japanese and English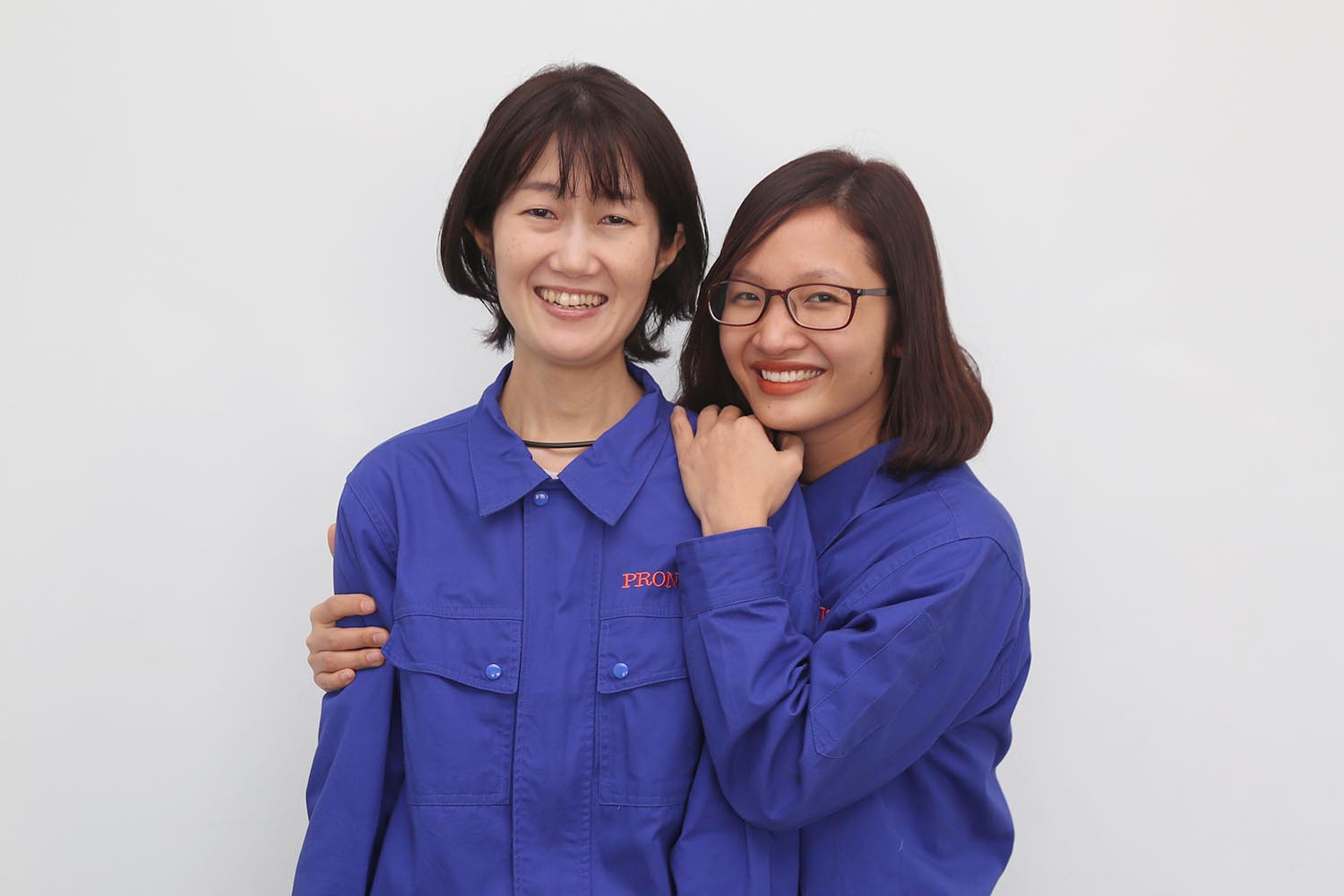 Hello. We are Hagimori in charge of quality and Diu in charge of sales. We also support Vietnamese, Japanese, and English when have inquiries. PRONICS HANOI has many staff who can speak Japanese and English, and we can handle inquiries about quality audits, confirmation, trade, and delivery in multiple languages, so please feel free to leave jobs to us.
Hagimori was originally a professional measurer who worked for PRONICS (Japan) for a long time. She left PRONICS for three years then she went to Manila for a life event, but now she is in charge of quality for PRONICS HANOI. Since we are professionals in dimensional measurement, both for mold verification and measurement of mass-produced products, we can respond to your measurement specifications, and if you leave jobs to us, we will propose the optimum measurement standard, fixing, and measurement point. It's possible.
Diu is in charge of sales and is fluent in Japanese. Since Diu have been translated ISO-related forms into Japanese, we will also handle quality control and process inspections in Japanese. Some of our staff are fluent in English, so we will respond to your various questions and inquiries in multiple languages. Please feel free to contact us.
Factory Manager Is First-Class Level of Molding Technician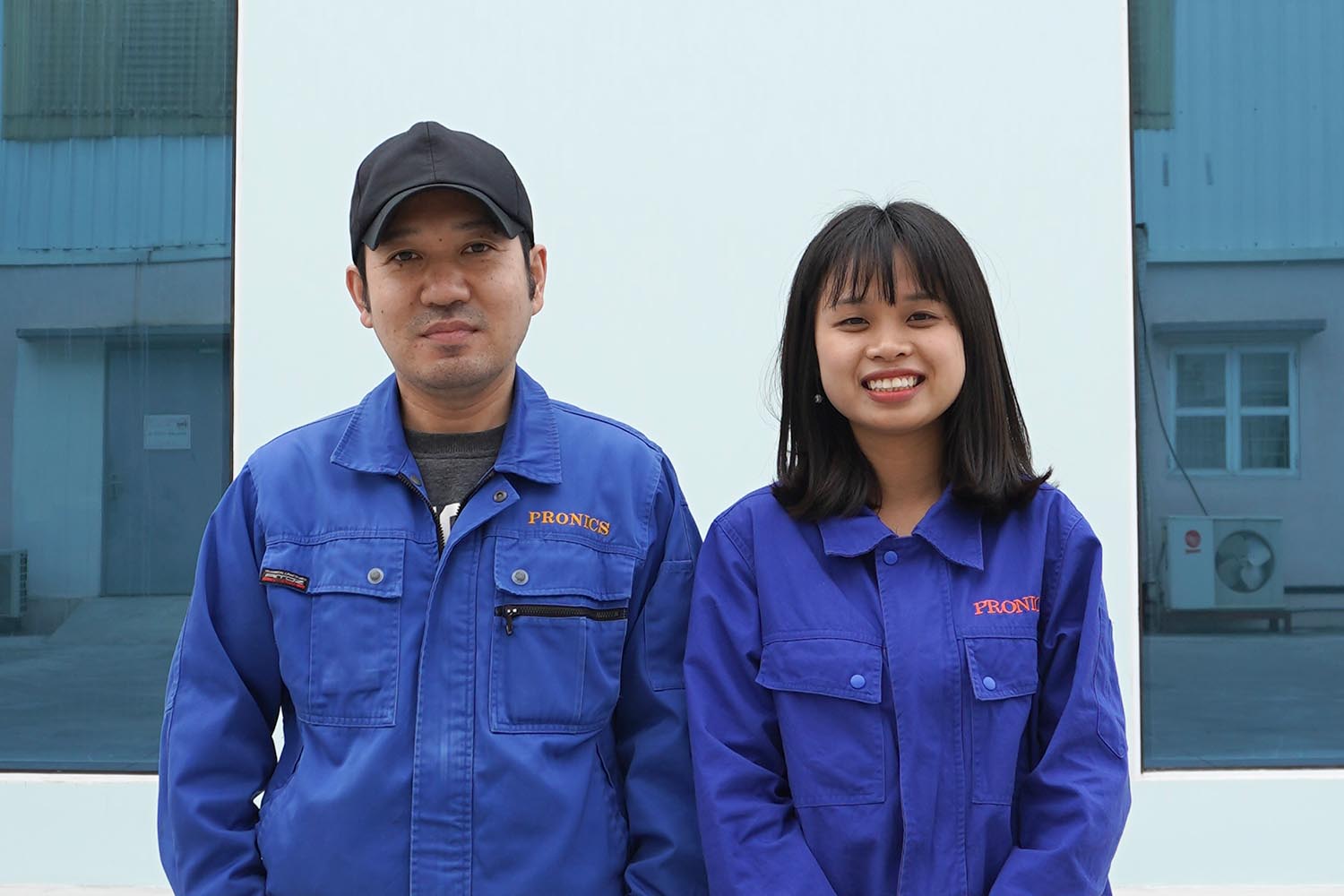 Hello. This is Koyanagi, the factory manager, and Hong, the production manager. We will surely provide good products on time.
Koyanagi holds the Japanese national qualification "Plastic molding technician first grade". He has worked for many years as a molding manager at PRONICS (Japan) and also been assigned to China. It is true that there are language barriers in every country, but I am very good at getting closer and communicating with the on-site staff beyond the differences. I came to PRONICS HANOI in 2019. Unlike the urban image of Hanoi, the factory location in Hanam was truly amazing in the countryside. There are many inconveniences in life, but I can feel the honesty of the people in the countryside, and the reliable staff support me.
As the right arm of the factory manager, Hong manages production and make production plans. She has four years of study abroad experience in Japan. After graduating from a Japanese language school in Tokyo, she worked part-time while studying at a vocational school with an international IT business course. As a Japanese interpreter, she is fluent in business conversations, but soon after joining the company, she had a hard time interpreting because she did not understand the technical terms related to production and manufacturing and did not understand the process. .. As she always go along with factory manager every day and translate so much in factory, her interpreting ability improved unexpectedly, and now she is in charge of production management. Production management is an important task that is directly linked to the customer's request for delivery. She am doing her best on work.
Professional in Trading and Accounting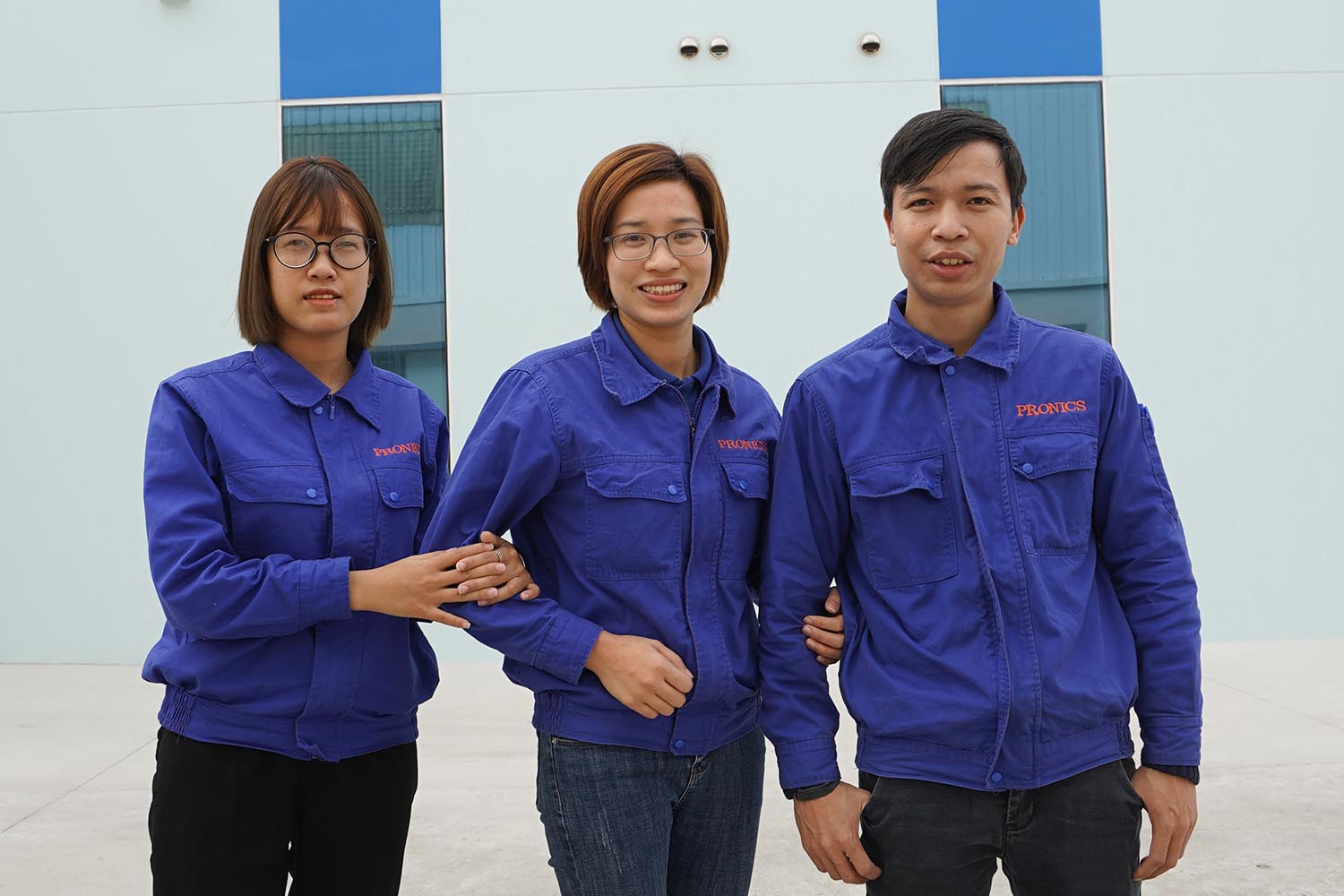 Hello. This is Men who is in charge of all trading and accounting. She has been in office since company establishment in 2017, but now her younger sister Hang and her husband Tuong together work at PRONICS HANOI.
Her younger sister Hang, who was a college student at the time of 2018, had joined the company as internship for a half year. Since her major was accounting, and has working for company around 2 years, now she aims to get the qualification of chief accountant (accounting chief) while being involved in accounting management.
Her husband is Tuong called "Mr. Wall" in Japanese in company. Since his name cannot be pronounced by foreigners, "wall", which has the same sound meaning, became his nickname. Her husband, who specialized in information technology at university, originally had a different job, but joined PRONICS because of a relationship. At first, he was in charge of repairs, but when it was discovered that he was specialized in information technology, he was assigned with a development project for an order management system, and he have change to traveling to Ho Chi Minh with a director of PRONICS (Japan). It has a wide range of business.
Men holds the qualification of Chief Accountant and she is the Accountant of PRONICS HANOI. She is fluent in business English, as well as accounting and trading languages, and although Japanese is still N3 (Japanese Language Proficiency Test) -the level of daily conversation, she is studying for N1. Please be assured that she will respond promptly and reliably to inquiries regarding sales and exports with customers.
We will do our best to help you procure in Vietnam. Please have business with PRONICS HANOI.